Louisa Clark arrives in New York ready to start a new life, confident that she can embrace this new adventure and keep her relationship with Ambulance Sam alive across several thousand miles. She steps into the world of the superrich, working for Leonard Gopnik and his much younger second wife, Agnes. Lou is determined to get the most out of the experience and throws herself into her new job and New York life.

As she begins to mix in New York high society, Lou meets Joshua Ryan, a man who brings with him a whisper of her past. Before long, Lou finds herself torn between Fifth Avenue where she works and the treasure-filled vintage clothing store where she actually feels at home. And when matters come to a head, she has to ask herself: Who is Louisa Clark? And how do you reconcile a heart that lives in two places?
My Thoughts
Book 3 did not disappoint. I LOVED it! I'm not going to lie, I would love to read a #4! Just saying.
Louisa Clark heads to NYC to start her new life after Will. Will her long distance relationship with Sam last the with her across the ocean?
Her newest adventure is being a personal assistant to Agnes Gopnik who is very needy. Louisa wants to make the most of this experience and her goal is to be the best personal assistant she can.
But there are times when Agnes crosses the line and Louisa has to compromise her judgment to be able to follow through - funneling money out of the account or sending outrageous gifts to another country without Leonard's knowledge. But Louisa does as she's told and it doesn't end well for her.
Then she meets Josh. I personally don't like him, he's very city and his ambitions are to climb the corporate ladder, not build a meaningful relationship.
Louisa runs into many challenges in this third book - lying, backstabbing, dishonesty, will she make it through without a mark or will one of these take her down? She also makes a few great friends, meets a pretentious dog, and tries to befriend a recluse named Margot from the fashion world of years past. If anything she hopes to grow from all of these experiences - good and bad - and become a better person which is what Will had hopped for her.
Drink Selection
A perfect selection for this book would be a Martini with Vermouth!
Rating
I loved this book from beginning to end, 5 wine glasses hands down!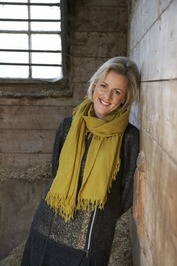 About the Author
Link to Purchase