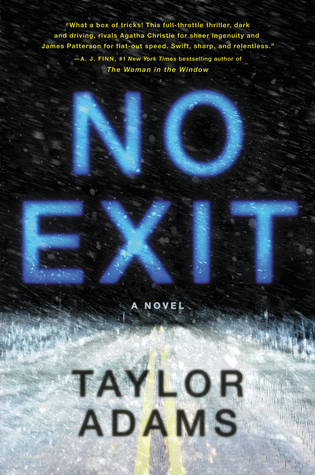 A kidnapped little girl locked in a stranger's van. No help for miles. What would you do?

On her way to Utah to see her dying mother, college student Darby Thorne gets caught in a fierce blizzard in the mountains of Colorado. With the roads impassable, she's forced to wait out the storm at a remote highway rest stop. Inside, are some vending machines, a coffee maker, and four complete strangers.

Desperate to find a signal to call home, Darby goes back out into the storm . . . and makes a horrifying discovery. In the back of the van parked next to her car, a little girl is locked in an animal crate.

Who is the child? Why has she been taken? And how can Darby save her?

There is no cell phone reception, no telephone, and no way out. One of her fellow travelers is a kidnapper. But which one?

Trapped in an increasingly dangerous situation, with a child's life and her own on the line, Darby must find a way to break the girl out of the van and escape.

But who can she trust?
My Thoughts
At first this story started out calm and collected and I was wondering what everyone was raving about. She was driving in horrible conditions and then had to pull into a rest area. Then Darby walks by the van and sees the hand. OMG! I just about hide a heartattack!
I mean is she sure that's what she saw or was it all her freezing cold imagination?
What would you do if that was you? I asked myself that as I was making my way through this crazy story page by page...
Would I try to figure out who's van it is? Probably...
Would I think of a way to free the child? I think so...
Would I then come up with a plan as to how to kill her kidnapper? I'm not so sure...that's a rather large feet to tackle all on my own!
I mean there were A LOT of cringe worthy moments through out this book, but it was worth it!
Get your copy today! I can't type it all out our I will ruin your experience!
I'm pairing this crazy tale with a Blizzard - bring on the bourbon!
About Taylor