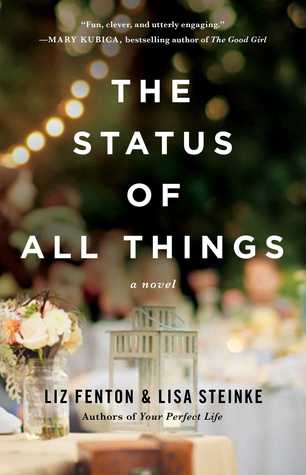 What would you do if you could literally rewrite your fate—on Facebook? This heartwarming and hilarious new novel from the authors of The Perfect Life follows a woman who discovers she can change her life through online status updates.

Kate is a thirty-five-year-old woman who is obsessed with social media. So when her fiancé, Max, breaks things off at their rehearsal dinner—to be with Kate's close friend and coworker, no less—she goes straight to Facebook to share it with the world. But something's changed. Suddenly, Kate's real life starts to mirror whatever she writes in her Facebook status. With all the power at her fingertips, and heartbroken and confused over why Max left her, Kate goes back in time to rewrite their history.

Kate's two best friends, Jules and Liam, are the only ones who know the truth. In order to convince them she's really time traveled, Kate offers to use her Facebook status to help improve their lives. But her attempts to help them don't go exactly as planned, and every effort to get Max back seems to only backfire, causing Kate to wonder if it's really possible to change her fate.

In The Status of All Things, Liz Fenton and Lisa Steinke combine the humor and heart of Sarah Pekkanen and Jennifer Weiner while exploring the pitfalls of posting your entire life on the Internet. They raise the questions: What if you could create your picture-perfect life? Would you be happy? Would you still be you? For anyone who's ever attempted—or failed—to be their perfect self online, this is a story of wisdom and wit that will leave you with new appreciation for the true status of your life.
My Thoughts
I can't believe that I didn't find this book sooner! I picked it up on a bargain table because I LOVE all things Liz and Lisa and BAM I fell in love.
Status and Facebook are not safe. I mean you can write whatever your little heart desires and that could truly change the outcome of some situations.
You know that you have those friends who look like they have the perfect life, WRONG, it's a lie. They just don't have the courage to show you the bad stuff too!
When I was younger my status was important, not I barely use it anymore. I don't need to share it with the world!
Poor Kate thought she had the perfect life - her job, fiancé, friends, you name it. And she shared every one of those moments with the world, you got it, via Facebook. Then her life turns in a direction she's not ready for and she re-write's her status and BAM she goes back in time to re-write the past to create the future that she wants now!
Is that the right way to fix her problems? To erase it like it never happened? Kate finds out that things aren't always that easy. Will she continue down that path or will she go back and accept the things that happened for what they are?
Grab this book and dive in! You will LOVE it!
Drink Selection
This book deserves to be paired with Champs! It all worked out the way it was suppose to in the end! Cheers!
Rating
5 wine glasses all the way! LOVE it!!!!
About the Authors
Link to Purchase